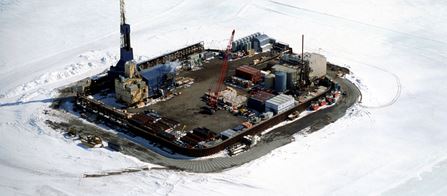 A report released today by the National Petroleum Council, an advisory committee to the Department of Energy, calls for a push in Arctic drilling in order to move America closer toward energy stability. While shale reserves have drastically transformed America's energy outlook, the report, entitled "Arctic Potential: Realizing the Promise of U.S. Oil and Gas Reserves," recommends that companies lay the groundwork for Arctic exploration as soon as possible since it will be at least 10 to 30 years before that oil makes its way to market. Shale production is expected to peak in 2019, but after that, the U.S. will need to look to new areas like the Arctic in order to maintain the economic and political advantages of increased crude production.
This comprehensive study of prudent development in the Alaskan Arctic was co-authored by a diverse group of government regulators, environmental organizations, Alaska Native representatives, industry and other non-profit groups (in total 105 organizations and 266 people contributed).  Arctic Potential: Realizing the Promise of US Oil and Gas Resources addresses all aspects of Arctic operations, scientific, technological and regulatory, and recommends to the U.S. Secretary of Energy further research to support existing exploration programs and enhance future development.
"Other Arctic countries have recognized the significant potential of the Arctic oil and gas endowment and are pursuing Arctic oil and gas exploration and development with an integrated national security, foreign policy, and economic perspective. To remain globally competitive and to be positioned to provide global leadership and influence in the Arctic, the U.S. should facilitate exploration in the offshore Alaskan Arctic now," the study's authors wrote.
Here are the key findings from the National Petroleum Council's report:
Arctic oil and gas resources are large and can contribute significantly to meeting future U.S. and global energy needs.
The arctic environment poses some different challenges relative to other oil and gas production areas, but is generally well understood.
The oil and gas industry has a long history of successful operations in arctic conditions enabled by continuing technology and operational advances.
Most of the U.S. Arctic offshore conventional oil and gas potential can be developed using existing field-proven technology.
The economic viability of U.S. Arctic development is challenged by operating conditions and the need for updated regulations that reflect arctic conditions.
Realizing the promise of Arctic oil and gas requires securing public confidence.
There have been substantial recent technology and regulatory advancements to reduce the potential for and consequences of a spill.
---