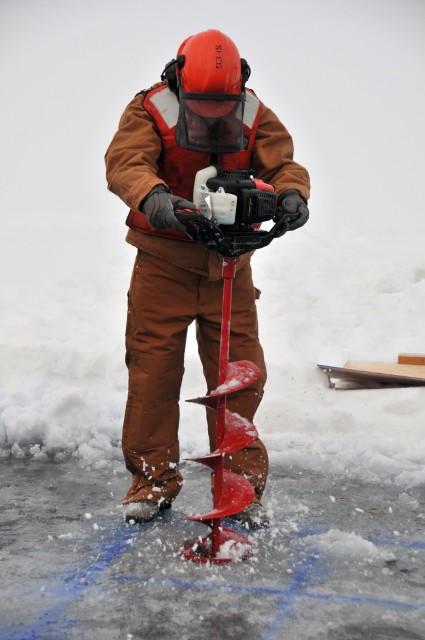 The 611th Civil Engineer Squadron will be able to find and recover oil in case of oil or hazardous waste spills in the Arctic. The U.S. Air Force reports that in early February the 611th CES, along with other state and federal agencies, practiced techniques to clear oil quickly before it travels to a larger affected area in the event of a spill
:
The 611th CES acts as first responder to incidents on Joint Base Elemendorf-Richardson and King Salmon Divert Airfield, Alaska, as well as secondary responder to 21 remote operating locations in Alaska and around the Pacific. It is also the only civil engineer squadron in the state of Alaska that responds to oil spills, a characteristic that is also very unique Air Force-wide.

"With this exercise, we show that it is possible to find and recover oil during Arctic conditions," said Scott Partlow, the U.S. Navy Supervisor of Salvage and Diving (SUPSALV) assistant base manager. "I think it's a good thing that everyone gets out here and gets their hands dirty to figure out how the equipment works and why we do it."

U.S. Navy SUPSALV was just one of the agencies working with the 611th CES to increase interoperability and complete the exercise. In addition, the Army Corps of Engineers, the U.S. Coast Guard, Cook Inlet Spill Prevention & Response Inc. and the Alaska Department of Environmental Conservation had representatives to help plan, execute and receive training as part of this cold weather operations exercise.

"It's a unique opportunity just to have all these different agencies working together with the same focus in mind; to respond to a crisis and to be able to deploy the different techniques and be responsible for the cleanup," said Master Sgt. Petree Buford, the 611th CES operations engineering superintendent.
---